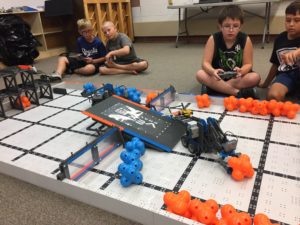 Guest author: Tony Yungeberg
Across the nation, millions of schoolchildren are settling back into the school-day routine now that summer is in the rearview mirror. The words, "homework," "essay," and "pop quiz" are reemerging after a long summer's hibernation, and pickup football and baseball games played in the relative quiet of parks and fields are giving way to games with officials, whistles, concession stands and scoreboards.
In the midst of this back-to-school rush, there's another transition playing out for many of our children, one that makes the return of the school bell and the bus schedule a whole lot easier on everyone. Now that school's back in for the fall, afterschool programs are kicking into gear as well.
In the Valley Heights Community, we're gearing up our 21st Century Community Learning Centers Colts Round-Up program, providing children of all ages, from pre-K through high school, with a safe and educational place for them to be during the hours right after school lets out. Any working parent will tell you that there's no substitute for knowing that your children are spending their afternoons constructively, rather than getting into trouble, online or in the real world.
But afterschool programs are about so much more than safety. While that's one good reason to value them, the truth is that afterschool programs are also great at inspiring kids to learn; helping them master what they're being taught during the regular school day; exposing them to broader horizons, business leaders in the area, various community groups and more, allowing them to stretch their imaginations when it comes to what they might like to do once they graduate.
At Colts Round-Up, we work with our pre-K children to help with some of the building blocks of learning: cognitive development and social interaction. Our K-3 children get help with their reading skills, while our 4th through 6th grade students get individual tutoring, do projects in science, technology, engineering and math (STEM), learn about health and nutrition, and get plenty of physical activity. Our 7th through 12th graders have plenty of help with homework, and peer- and teacher-tutoring to maintain their academic progress.
We also run a free USDA snack program so that all our students can have the energy they need to stay focused and have fun during their afterschool hours.
We're working to incorporate more career and technical education into our offerings, as well. We've partnered with Cloud County and Highland community colleges to introduce more such opportunities, and as a result, students at Valley Heights will soon be able to learn about wind energy and about the use of drones in farming.
Some of our other STEM offerings are expanding, too. In recent years, we've offered units on the "science of superpowers," simple machines, the Bricklab Zoo, flight and aerodynamics and snap circuits. This year, we're going to feature virtual reality "tours" of the seven continents, and we'll also beef up our robotics program.
So it's going to be another exciting year for our children, as well as for our staff and parents. And on a personal note, I'm looking forward to taking on an exciting challenge. This year, I'll be serving as one of 15 Afterschool Ambassadors from around the country, chosen by the Afterschool Alliance, a national organization that works to promote afterschool programs. I'll be organizing events to help rally support for afterschool, including a Lights On Afterschool event in October that'll be open to the community. I'm proud to lend my voice to the afterschool movement, and even prouder to share all the wonderful things our students at Colts Round-Up are doing.
That's why when everyone else is talking about getting "back to school" time, I'm more focused on "back to afterschool." What we do in our program, what we offer our kids and their families, is vital to the health of our community, and I want every child who needs an afterschool program to have access, and everyone everywhere to know that the learning doesn't stop when the final school bell rings.
Tony Yungeberg is the Valley Heights Community Education Director and 21st CCLC director.